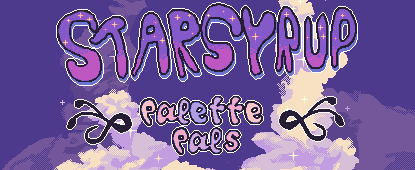 Starsyrup: Palette Pals
This is a game made over the course of 72 hours for Mini Jam 101 !!!
You must take care of your adorable creachurs by grabbing them and tossing them where they'd like to go, or manipulating the environment to suit their needs.
Beware though, Palette Pals are quite easy to upset!! They metamorphose into wicked beasties if not given enough attention, and if too many of your pets turn into monsters, its game over!
Credits -
oatmealine - Programming
Maggie - Art
Ankylosoreass - Creature Design Assistance
Music from MusMus
Install instructions
For the Linux Version:
To run on non-Debian Linux distros, you'll need to grab the `love` or `love2d` package from your package manager or https://love2d.org/ and run the ".love" file with it, this should work on MacOS as well.
Comments
Log in with itch.io to leave a comment.
Pretty cool. I like the sketchy pixel art
Surprisingly stressful for such a cute game. Things tend to spiral out of control very quickly once even a single pet becomes a monster. Game was quite easy to learn, and I had a pretty good handle on things by the second try. Overall, I liked this one.